It should come as no surprise that the bevy of varied terrain throughout the Willamette Valley makes for some excellent mountain biking. From Silver Falls in the north to the southern stretches of Highway 58, enthusiasts and local agencies alike have carved out exceptional, world-class trail networks with something for every ability level.
"Each year is different, but we have amazing soil," says Westfir Lodge co-owner Tracey Sunflower specifically about her neck of the woods in and around Oakridge-but the same could easily be said for the broader Valley.
Some area trails are recognized by formal mountain and gravel biking associations, while others are more grassroots as the product of local organizers. In any case, with biking more popular than ever, there's undoubtedly a trail in the Willamette Valley that'll suit your fancy, awaiting discovery.
Alsea Falls Trail Network (Alsea)
Beyond plenty of great hiking options, the Alsea Falls Recreation Site is also home to 9.5 miles of challenging and technical terrain. This system highlights a collaborative effort between the IMBA and the Bureau of Land Management to build more expert trails within a larger recreation area.
Riders can expect exceptional variety with plenty of flowing switchbacks, progressive turns, and tight singletrack. The system is also set up nicely for those that want to make multiple loops between trails.
Black Rock Trail System (Falls City)
Dino Venti is a founding board member of the Black Rock Mountain Bike Association and recounts the early days of the trail system, which were rooted in two-wheeling of the motorized variety.
"These trails used to host a lot of motocross and a couple of friends, and I figured out they'd be great for mountain biking once the moto hobby wasn't as popular," he says.
A formal nonprofit was formed in 2004 to begin adapting this 8-10-mile trail network 45 minutes southwest of Salem into an intermediate/expert MTB paradise, which has been formally recognized by the International Mountain Biking Association (IMBA) as an "Epic Ride". This designation means the trails are ones worth traveling for, built for the pure love of mountain biking. At Black Rock, this means impressive downhills, jumps and technical tests. Bikers love the work that the dedicated team has put into maintaining and improving the trails, but visitors are advised to check hours and conditions before planning a trip as repair work is currently underway.
Silver Falls State Park (Sublimity)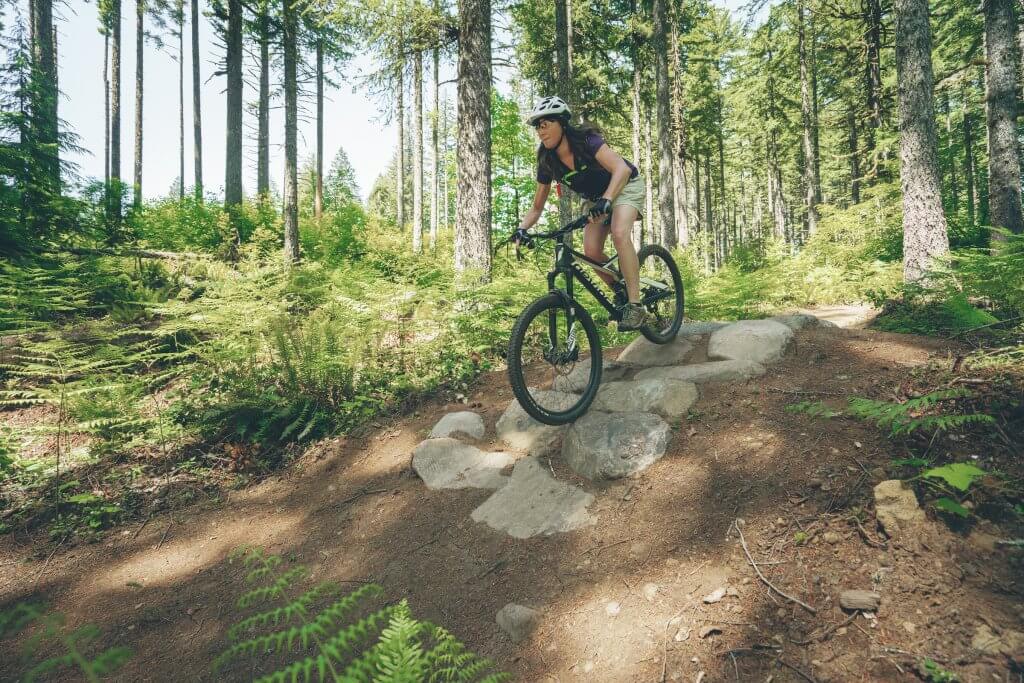 One of Oregon's most popular MTB networks resides 35 minutes east of Salem within one of its most popular state parks. The park has more than 50 miles of trails, most set up for mountain biking.
At the top of the list is the 12.5-mile Catamount Trail, opened in 2016 (and expanded later to an entire loop). The expansive terrain is calm enough for the average or occasional rider but has enough variability to make it worth the time of others more experienced.
There's plenty more to discover, but visitors should also take note that some trails are shared with runners, hikers and other outdoor enthusiasts.
Feeling inspired? Check out our guide to Silver Falls State Park-with ideas for overnight stays, outdoor activities, history, and more.
Westfir & Oakridge
Perhaps the best way to explore the seemingly endless gravel and mountain trails ("gold" rated by the IMBA - the highest possible rating) around this biking paradise just under an hour from Eugene is to book a tour from Westfir Lodge's Cascades Outdoor Center. Not only are most of the trails well-defined, but they exist aplenty, meaning bikers are typically spread out and there's plenty of trail for everyone.
The lodge has several bike shuttle options that'll take you and your rig right from the lodge to a range of mountain and gravel trails in the Cascade foothills surrounding the area. Sunflower says they run five bike shuttles daily, typically during the drier months (although she notes this can run until November, depending on conditions).
Several races and cycling events have made good use of the hundreds of miles of trails in and around the area, and doing your research ahead of time (or enlisting the help of a guide) is a good idea. Just want to stick to the road? There are plenty of options for that, too.
Keep in mind: The Middle Fork Complex Fires have burned a chunk of forest near Westfir and Oakridge in the summer of 2021. Some trails may be closed or inaccessible; before making plans, check with the official Middle Fork Complex Fire Facebook page for evacuation levels, air quality, weather forecasts, and possible closures.
McKenzie River National Recreation Trail
This 26-mile singletrack McKenzie River National Recreation Trail isn't for the faint of heart, but it should be on every mountain biker's bucket list. Although arduous, the MRT is perhaps one of the best ways to see some of the southern Valley's best sights, including Clear Lake, Sahalie & Koosah Falls and Tamolitch Falls, among other glistening natural wonders.
The journey glides along the gorgeous McKenzie River with a couple of fork options for more experienced riders (heading through a lava field) or a more subdued range for those just wanting to complete it in one fell swoop. The first 10-mile portion is considered the most technical of the run, but there are options to smooth it out from there. This is a very popular trail, so several major biking sites have detailed all of the options available to ride the MRT. (MTB Project and Bend Trails are two of the most popular and regularly updated sites.)
Horse Creek Lodge (McKenzie Bridge) offers shuttle service to bike the entire trail-but those book fast during the busy seasons, so reservations are a good idea.
NOTE: As of August 2021, a portion of the McKenzie River Trail is closed due to wildfire damage, so it's crucial to check current conditions before you head out.