We at the Willamette Valley Visitors Association recently partnered with The Journal of Lost Time, a digital publication showcasing memorable experiences around the world, to produce a series of short videos exploring the breadth of our region. And we're thrilled to announce that the first two videos in that series have now been released. Watch them below:
Watching the videos, you'll notice a theme emerge: "The Willamette Valley feels like home."
Wherever you go in the Willamette Valley, from the banks of the Willamette River to the summit of Marys Park and from the heart of downtown Corvallis to the forested foothills of the West Cascades, it's hard not to feel at home-and we hope that shines through in these enchanting videos.
So if you'd like to spend a weekend following in the footsteps of The Journal of Lost Time, we've put together a two-night itinerary that shows off shooting locations around the South Willamette Valley-along with information on how each stop contributes to our region's vibrant culture. Wherever you go, we hope you feel right at home.
Day One: Enjoying the Outdoors Around Corvallis and Alsea
Go For a Run or Walk Along the Willamette River
The first thing you see in the first video is a runner jogging on a dirt path near the Willamette River near Corvallis. And a jaunt along the river makes a fine way to ease into your weekend.
The city sits along the western bank of the Willamette River and offers plenty of room to roam. In downtown proper, a paved path (protected from the street) offers passage for hikers and cyclists through Riverfront Commemorative Park, with occasional river views peeking through the stands of trees. And at the southern edge of town, Willamette Park & Natural Area is the city's largest park-with wide-open meadows, a disc golf course, a community garden, and easy access to (and views of) the Willamette River via flat, paved paths.
Gather for Dinner at The Thyme Garden
Just 30 minutes southwest of Corvallis sits The Thyme Garden, which since 1990 has cultivated new and unusual varieties of herbs in the community of Alsea. (Today, the garden is home to more than 250 raised beds that show off more than 650 varieties of herbs-making it one of the largest such collections in the Pacific Northwest.)
The Journal of Lost Time crew enjoyed an early dinner at the garden, and it's not too far off from what you can experience at Thyme Garden events throughout the year; popular annual events include a Mother's Day celebration, Earth Day festival, summer tours, luncheons, and the Fall Salmon Celebration-held each November.
Enjoy Breathtaking Sunset Views From Marys Peak
At 4,097 feet, Marys Peak is the highest point in the Coast Range-sitting just a half-hour west of Corvallis. On a clear day, the peak's summit affords views of the Pacific Ocean to the West and Cascade peaks to the east. Naturally, its sunset views are hard to beat anywhere in the Willamette Valley.
Visitors wanting to enjoy Marys Peak have several options for doing so in late spring, summer, and fall. Several lower trailheads offer access to hiking trails that ascend the slopes of Marys Peak, for instance-hikers should come equipped with headlamps and/or flashlights for the trip back-but those pressed for time or wanting less of a haul have another option. Specifically, they can drive a road (paved and accessible to passenger vehicles) to a parking area and viewpoint just below the summit. From there, visitors can take a 1.5-mile round-trip hike (gaining 535 feet along the way) to the summit itself; the quick hike passes through meadows covered in wildflowers each spring, and the views from the top are unobstructed to the west.
The sunsets, naturally, are unrivaled anywhere in the Willamette Valley.
Unwind on the Rooftop at Sky High Brewing in Corvallis
Need a nightcap after a full day exploring the Willamette Valley outdoors? When the weather cooperates, there may be no hotter seat in Corvallis than the rooftop bar at Sky High Brewing.
The four-story pub offers indoor seating, an outdoor heated patio, and-of course-a rooftop pub where visitors can sample a wide range of Sky High's locally made brews. Views extend across downtown Corvallis and the nearby Coast Range, and fire pits offer a touch of warmth when the evening gets a bit chilly.
Spend the Night in Downtown Corvallis
You've had a busy day that's taken you from the banks of the Willamette River to the summit of Marys Peak-so you'll want to relax in comfort and style. Courtyard Corvallis by Marriott sits along the Willamette River in downtown and offers some of the city's most stylish amenities. Watch a movie with in-room smart TVs, get cozy with plush bedding, catch up on social media with free Wi-Fi, get some work done with an in-room ergonomic desk, or grab a quick meal at the hotel's bistro.
Day Two: Enjoy Fresh, Local Fare-and Explore the West Cascades
Nosh on Breakfast at Tried & True Coffee Company
The Willamette Valley is a place where "local" means something to those who grow, produce, and shop for homegrown goods around our region. And since opening in 2014, Tried & True Coffee Company has embodied that "local" ethos from a charming coffee shop in downtown Corvallis.
The shop, for instance, carries coffee from Bespoken Coffee Roasters (which is based in Corvallis), prepares its pastries and baked goods in-house, and sources its food ingredients from Oregon-based growers (including Gathering Together Farm, Green Oaks Eggs, and The Mushroomery-all based in Corvallis and nearby communities).
Best of all: It's just a few blocks away from Courtyard Corvallis, so you can roll out of bed and wake up with breakfast in no time at all.
Paddle the Willamette River Water Trail Near Downtown Corvallis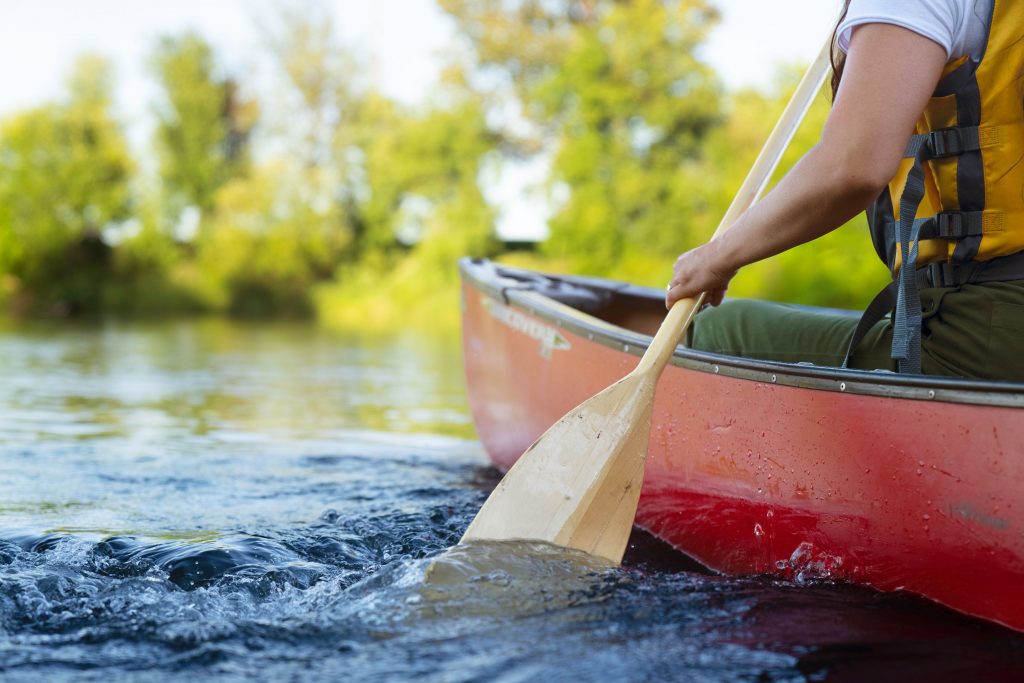 So far, you've enjoyed views of the Willamette River from land-but why not hop on the water and check it out up-close? Post-breakfast, strap on your life jacket and hop on a portion of the 187-mile-long Willamette River Water Trail near Corvallis.
Whether in Corvallis or along other stretches of the meandering river, paddlers can enjoy unprecedented opportunities for wildlife viewing (including waterfowl, migratory birds, raptors, and deer), occasional urban experiences (made possible by riverside docks and landings within some of the region's largest cities), and even overnight opportunities (thanks to roughly 50 campsites-most accessible only by boat-along the river). Curious? Learn more about what all there is to see and experience along the Willamette River Water Trail.
If you want to get on the water but don't have your own kayak, stop by Peak Sports for gear rentals, which include personal floatation devices, all necessary permits, and straps; the shop rents out more than 20 boats, so chances are good you'll find something suited to your skill and experience levels.
Go Mountain Biking Around Oakridge
So far, you've experienced the outdoors around Corvallis, and have noshed on its locally sourced fare. Now, your trip takes you into the West Cascades for some of the best mountain biking anywhere in the region.
Oakridge has been dubbed the "Mountain Biking Capital of the Pacific Northwest"-and for good reason. No less an authority than the International Mountain Bicycling Association has designated Oakridge a gold-level Ride Center-one of only four areas in the United States to receive such an honor-cementing the community as a world-renowned destination for riders of all skill levels. With 390 miles of trail, Oakridge was recognized for long, flowing rides through some of the region's thickest Douglas fir forests.
If you need a rental, stop by Oakridge Bike Shop & Willamette Mountain Mercantile for a variety of demo bikes, as well as services and rentals.
Before you make plans, a friendly heads-up: Oakridge has felt the effects of the Middle Fork Complex Fires, which have burned a wide swath of forest in the West Cascades in the summer of 2021. Some trails may be closed or inaccessible, and all visitors should check with the official Willamette National Forest Facebook page for evacuation levels, air quality, weather information, closures, and more.
Enjoy a Meal and Stay the Night at Westfir Lodge
Spending the night in the West Cascades? The Westfir Lodge, in the heart of the West Cascades, makes the perfect home base for exploring the wider region-whether mountain biking, hiking, or kicking back and relaxing.
More than just a lodge, Westfir serves as the beating heart of the area's mountain biking and outdoor recreation community-complete with nine spacious rooms and an on-site restaurant that serves filling deli sandwiches and house-made pierogi (not to mention fresh craft beer). The lodge is also where you'll meet up if taking a trip with Cascades Outdoor Center-which offers guided hikes and snowshoe tours, rafting and kayaking tours, and shuttles between Westfir and some of the area's most popular mountain bike trails.
Day Three: Return to Eugene for a Taste of All Things Local
Early Lunch and Road Cycling at Camas Country Bakery and Store
You'll enjoy a homemade breakfast with your stay at the Westfir Lodge, so fuel up for your return trip to the Willamette Valley.
Back in Eugene, hop in the saddle for a fun bike ride along backroads and byways-where you'll pass rows of crops and enjoy rolling hillsides-before arriving at the Camas Country Bakery and Store.
Camas Country Mill opened in 2011 to grow (and mill) grain for producers around the Willamette Valley. Since then, the family-run mill has processed more than 2 million pounds of flour; in fact, the mill supplies 10 school districts throughout Oregon with whole grain flour. Its consumer-facing outpost-Camas Country Bakery and Store-is where you'll find the mill's hearty lineup of breads and pastries (which includes cinnamon rolls, cookies, and other house-made baked goods).
Perusing Locally Grown Produce and More at the Lane County Farmers Market
Head back to Eugene for one last local taste of the Willamette Valley at the Lane County Farmers Market. For 11 months of the year, visitors can meet farmers up-close, sample their fresh produce, try locally made fare, and see some of the myriad crops growing throughout the region.
In all, 50 vendors share their wares at four markets (staggered throughout the year) that make up the Lane County Farmers Market. Two markets take place during peak growing season (one on Saturdays, the other on Tuesdays), another takes place on Saturdays in winter, and another serves shoppers during the holiday season. Throughout the year, visitors to the four markets can find fresh flowers, berries, baked goods, all manner of produce, honey, and other regionally sourced goods from local vendors.