For over a century, Oregon's natural beauty has drawn film production crews to the region. Over 500 movies have been filmed in Oregon, many of them Hollywood blockbusters and some filmed right here in the Willamette Valley. So grab your popcorn, check out the Oregon Film Trail, and plan a road trip to visit the locations you've seen on film.
Stand By Me (Brownsville, 1986)
Set in the fictional town of Castle Rock, Stand By Me was filmed in Brownsville. Stand By Me is a coming-of-age story of four young men who set off together on an overnight adventure.
If you visit Brownsville today, you will recognize the buildings from the scenes of downtown Castle Rock. Main Street still looks a lot like it did when the movie was filmed there in 1986.
The Annual Stand By Me festival in Brownsville (usually held in July but canceled for 2020) offers family fun including pie sales, games, and a classic car show. The movie runs continuously at the Linn County Historical Museum during the festival. You can find Oregon Movie Trail placards throughout Brownsville that highlight some of the key locations from the film. Just down the road in Cottage Grove, you'll find the trestle bridge that Gordie, Vern, Teddy, and Chris cross during their adventure.
Stand By Me is available streaming on Prime Video and Vudu.
Tracktown (Eugene, 2017)
Filmed in Eugene and relying heavily on the University of Oregon campus, Tracktown is a small indie film written, directed, and produced by Jeremy Teicher and Alexi Pappas, who also stars in the film. Referred to as a "coming of age sports film" by Wikipedia, Tracktown tells the story of an Olympic distance runner forced to rest between Olympic trials due to an injury. Her days off prompt her to question and re-evaluate her life goals. The University of Oregon's Hayward Field figures prominently in the film. Pappas, a U of O student, invited other Oregon runners to play the parts of other distance runners trying out for the US Olympic team. Tracktown is available on YouTube.
Twilight (Portland, St. Helens, and Silver Falls State Park, 2008-2012)
Silver Falls State Park was host to the film crew and stunt doubles for several scenes in the series of Twilight movies. Based on the popular book series by Stephenie Meyer, the Twilight saga tells the story of Bella Swan, an ordinary human, who falls in love with vampire Edward Cullen. Set in Forks, Washington, filming was done in Portland, St. Helens, and Silver Falls.
Silver Falls State Park is located 20 miles east of Salem, near Silverton. Open for day use and overnight camping, it is the largest state park in Oregon, covering over 9,000 acres and home to 24 miles of hiking trails, including the stunning Trail of Ten Falls. The park was the location for scenes of Bella and Edward flying through the trees and a scene where Edward chases and catches a deer. An Oregon Film Trail marker can be seen at the Howard Creek Trailhead parking area, not far from the campground.
The Twilight films are available streaming on Prime Video and YouTube.
Animal House (Eugene and Cottage Grove, 1978)
Produced by National Lampoon, Animal House is credited with "defining and launching the gross-out film genre," according to a 2008 Animal House documentary.
Set in the fictional Faber College, Animal House was filmed at actual University of Oregon fraternity houses in Eugene. Interior scenes were filmed at the Phi Kappa Psi house and the Sigma Nu house, on the 700 block of East 11th Avenue. After being turned down by numerous colleges across the country, Animal House producers found a friend in William Beaty Boyd, the then president of the University of Oregon, who agreed to allow filming on campus. The film's parade scene was filmed in Cottage Grove, just south of Eugene. Animal House can be watched streaming on Prime Video.
One Flew Over the Cuckoo's Nest (Salem and Depoe Bay, 1975)
Filmed at the Oregon State Hospital in Salem and on the Oregon coast, One Flew Over the Cuckoo's Nest stars Jack Nicolson as Randle McMurphy. Sentenced to serve time on a prison farm following an assault charge, McMurphy is transferred to the mental institution despite having no mental illness.
Filming took place at the Oregon State Hospital and actors spent time at the hospital prior to filming. Hospital residents and staff were included as extras in the film. Boating scenes, when McMurphy takes a group of fellow residents on a fishing field trip, were filmed in Depoe Bay. Today, the Oregon State Hospital of Mental Health welcomes visitors with artifacts from the film and exhibits on the hospital's history.
One Flew Over the Cuckoo's Nest is available for streaming through Prime Video, AppleTV, and YouTube.
Abe Lincoln in Illinois (Eugene, 1939)
Despite its name, Abe Lincoln in Illinois was filmed in Eugene. It tells the story of Lincoln's life before he became president. Moving from New Salem, Illinois, to Springfield, Abe Lincoln is pulled into politics thanks to his down-to-earth character and likability. Adapted from the play of the same name, the movie, like the play, stars Raymond Massey as Lincoln. Massey received an Oscar nomination for his performance in the movie. Abe Lincoln in Illinois can be rented on YouTube.
Ed's Coed (Eugene, 1929)
Filmed in Eugene by University of Oregon students with the help of Cecil B DeMille, this silent film offers a wonderful glimpse of university life in the 1920s, with the University of Oregon serving as a the backdrop for many of the movie's scenes. An original music soundtrack was composed for the film in 2012 by Professor Brian McWhorter of the UO School of Music and Dance. Through the generosity of the University of Oregon's Knight Library, Ed's Coed is available free on YouTube.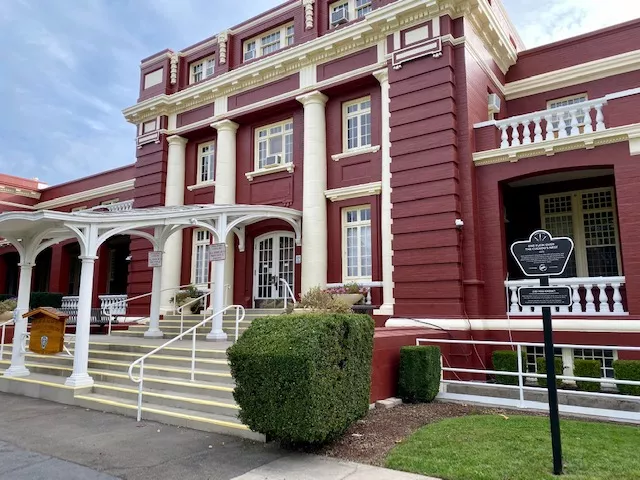 The Oregon Film Trail
Oregon Film, the OregonMade Creative Foundation, Travel Oregon, Oregon Coast Visitors Association, and the Astoria-Warrenton Area Chamber of Commerce are working together to establish the Oregon Film Trail, a statewide network of trail markers that highlight filming locations across Oregon.
The first film location trail marker was installed in 2018 at Gleneden Beach State Park. It celebrates the 1971 production of Sometimes a Great Notion, which was filmed on beaches nearby and at a house on the Siletz River only a few miles away.
A handy film trail map is available to help you plan your Oregon Film Trail road trip.
Rent or purchase any of these films featuring the Willamette Valley:
Buster Keaton's The General (Cottage Grove, 1926)
Ed's Coed (Eugene, 1929)
Abe Lincoln in Illinois (Eugene, 1939)
Drive, He Said (Eugene, 1970)
Getting Straight (Eugene, 1970)
One Flew Over the Cuckoo's Nest (Salem, 1975)
Animal House (Eugene, Cottage Grove, 1978)
Quarterback Princess (McMinnville, 1983)
Without Limits (Eugene, 1996)
Bandits (Salem, 2001)
Dark Horizon (Salem, 2006)
Something Wicked (Eugene, 2009)
Tracktown (Eugene, 2017)