Salem may be the second-largest city in Oregon-and the largest in the Willamette Valley-but you don't need to travel far to experience its deep roots as an agricultural hub in the region.

For starters, restaurants and brewpubs around town source their ingredients from local growers whenever possible-producing vegetarian-friendly restaurants, food menus that change with the season, and beers made from hops and local ingredients from area farms. But drive even 10 minutes outside of Salem, and you'll find yourself a world away from the community's urban core-surrounded on every side by rolling hillsides covered in wine grapes, orchards growing apples and peaches, and fields of juicy berries.
You can experience this agriculture in a variety of fun ways along the 27-stop Marion Farm Loop. The loop, part of the larger Oregon Farm Loop project, aims to connect visitors with the food they enjoy through farm tours, tastings, and other outings that can't be enjoyed just anywhere. So after you've downloaded a brochure from the loop's official website, dig deeper into the heart of the Willamette Valley with this overview of the self-guided Marion Farm Loop.
What is the Marion Farm Loop?
The self-guided Marion Farm Loop is made up of 27 farms, markets, orchards, cafés, and even an outdoor beer garden-all in the heart of the Willamette Valley.
You can experience as many, or as few, stops as you'd like along the loop-and, given the self-guided nature of the tour, you can visit in any order that fits into your travels. That said, Marion Farm Loop organizers have crafted a counterclockwise loop that starts at the northern edge of the region-near Aurora-before heading south (through the likes of St. Paul, Keizer, and Salem); the loop reaches its southernmost point at Stayton and Sublimity before turning back north (where it heads past Mt. Angel and Woodburn) before arriving back near Aurora.
In all, 27 businesses comprise the Marion Farm Loop, so feel free to pick and choose among what's in season and what sounds interesting. Given the wide range of offerings along the loop, we'd suggest tackling the loop in one of two ways: If you're pressed for time and only have an afternoon to spare, try visiting 1-3 stops along the loop, giving yourself plenty of time to enjoy the local flavors along the way. If you'd rather travel at a more leisurely pace, enjoy an overnight or weekend outing that allows you to slow down and connect with these hard-working communities and businesses on a deeper level.
Just keep in mind that many farms and markets close for the winter-usually between November and March or so. Check in with your desired destinations before visiting, especially during those quiet months.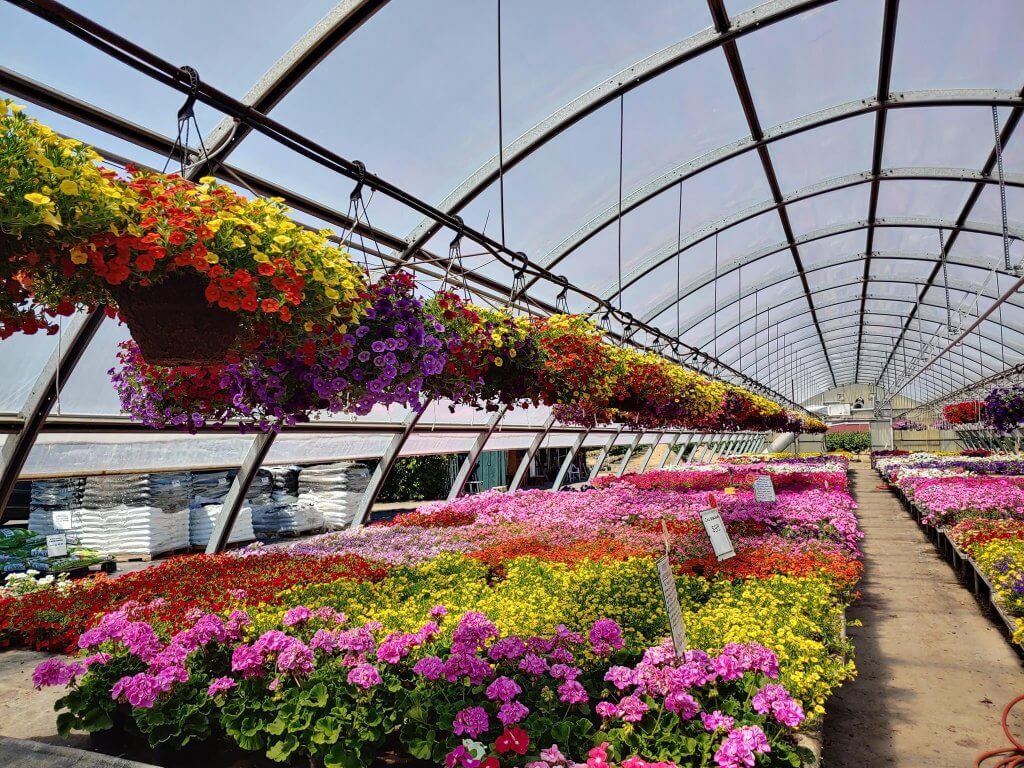 Where is the Marion Farm Loop?
The Marion Farm Loop sits entirely within Marion County, extending from the banks of the Willamette River in the north to forested farmlands-and the very western edge of the Cascade Foothills-in the south. Salem and Keizer are the biggest cities within the loop, but other communities along the way include Aumsville, Stayton, Sublimity, Silverton, Woodburn, and Aurora.
Driving the loop north to south takes about 35 minutes via Interstate 5-or up to an hour if taking the slower, more meandering OR-219. The loop heads through Salem but otherwise follows backroads and byways that gently curve through orchards and farmland. The only traffic jam you'll encounter on these roads is when you get stuck behind a tractor.
What Can You Do Along the Marion Farm Loop?
Agriculture connects us with the foods and beverages we love so much-so get a feel for how it all begins at some of the working farms along the Marion Farm Loop.
Bauman's Farm & Garden offers fresh produce (picked daily), an on-site bakery, house-made hard cider, and a colorful nursery all year long. And for a look at farming of another sort, stop by Minto Island Growers (just outside Salem) to check out Oregon's only farm-scale Camellia sinensis tea garden; take home your own tea plant, grab some of the outfit's pre-packaged tea, or even fuel up at an on-site farm stand and food cart for fresh, locally sourced fare.
The loop also features a wide range of wine and craft beer. Celebrate the region's wine grapes with stops at Honeywood Winery, which pours more than 50 varieties; Willamette Valley Vineyards, which pairs its award-winning wines with sweeping vineyard views; or Pudding River Wine Cellars, which pours small-batch wines in a converted barn. If craft beer is more your speed, while away an afternoon at TopWire Hop Project, an outdoor beer garden surrounded by acres of hop plants-many of which were used to produce the beers on tap.
Part of what makes the Marion Farm Loop so special is the sheer variety of businesses that welcome visitors and showcase the region. The Oregon Garden, for instance, is an 80-acre botanical garden showcasing the many plants that call the Pacific Northwest home. And the café at Willamette Valley Pie Co. specializes in fresh pie, frozen fruit, smoothies, and more-all lovingly crafted from berries processed by the third-generation farm. And for an experience you can only enjoy along the Marion Farm Loop, check out Oregon's only honey tasting room at Flying Bee Ranch; sample several creative honeys, and head home with a jar of your favorite.