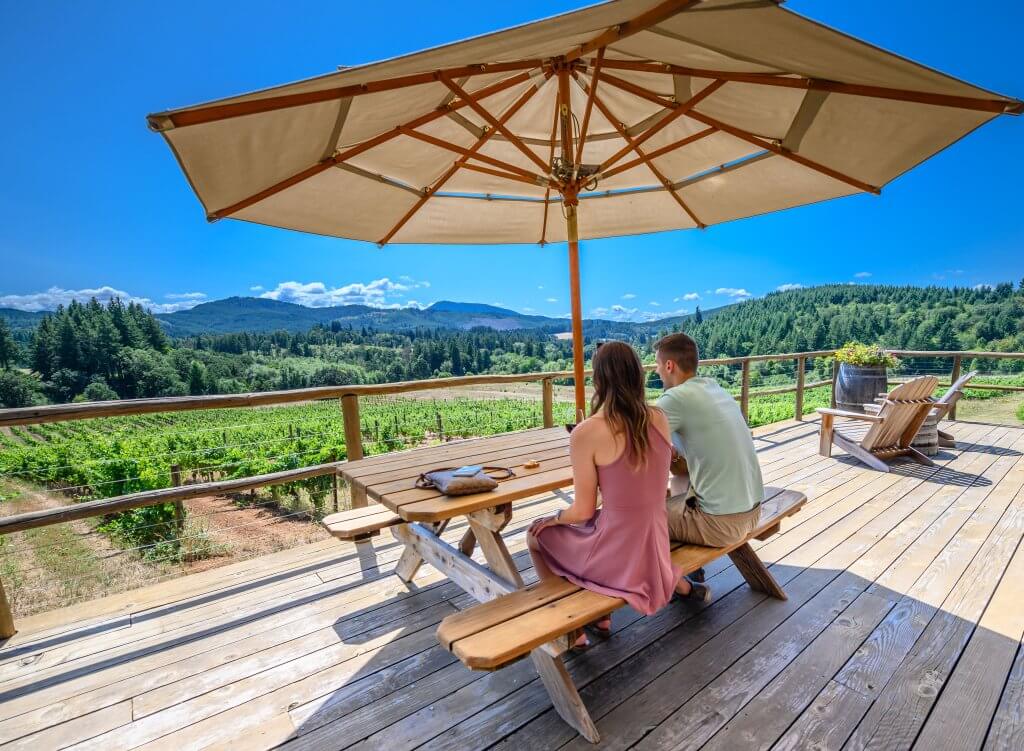 Agricultural roots run deep in the mid-Willamette Valley-more than 150 years, in fact, back to when the College of Agricultural Sciences was established at Oregon State University (OSU). It was OSU's founding college, designed to help students get familiar with the farming possibilities at their doorstep, and has since become a pioneer in all manner of agriculture education, research, outreach, and more.
Over the years, the college has produced generations of family farms, some of the area's top craft brewers, and countless entrepreneurs who stick around and share the bounty of the mid-Willamette Valley with visitors from all over the world.
So if you'd like to explore the region's rich agricultural history, check out the self-guided Mid-Willamette Valley Food Trail, featuring top producers, restaurants, farm stands, and more.
What is the Mid-Willamette Valley Food Trail?
The self-guided Mid-Willamette Valley Food Trail spans wineries, craft breweries, farms, ranches, markets, experiences, and more in the heart of the Willamette Valley. Given the area's rich agricultural history, dating back to the mid-1800s, it's no wonder farmers have perfected strawberries, blueberries, wine grapes, hazelnuts, hops, and other crops that show up in markets and on dinner plates all over the state.
Just over 50 businesses comprise the Mid-Willamette Valley Food Trail, so how you experience the region is for you to decide: Chat with cider makers, vintners, and craft brewers over fresh pours; take tours of working farms and ranches; shop for artisan products; hike through a botanical herb garden; and more. If you'd like to spend a day traveling the trail, we'd suggest 3-5 stops; that said, a few overnight accommodations make it possible to spend a full weekend savoring the flavors of the region.
Where is the Mid-Willamette Valley Food Trail?
The Mid-Willamette Valley Food Trail covers Benton and Linn counties, with a few stops at the very southern edge of Polk County. (In all, the food trail extends from the Oregon Coast Range in the west to the Cascade Range foothills in the east.) Corvallis and Albany are the largest cities along the trail, and where you'll find the majority of the trail's stops, but other notable communities include Philomath, Lebanon, Sweet Home, and Alsea.
Driving between Alsea (the westernmost community along the food trail) and Sweet Home (the easternmost community) takes about one hour, 10 minutes; driving from the trail's northern edge in Airlie to its southern border in Monroe, meanwhile, takes about 45 minutes via Route 99W. All that said, backroads and byways spread out from the region's major thoroughfares and encourage visitors to explore at their own pace; you never know when you'll stumble upon a sublime winery or mouth-watering restaurant.
What Can You Do Along the Mid-Willamette Valley Food Trail?
The phrase "farm-to-table" gets thrown around a lot, but you really can enjoy experiences that begin in the field and end at an eatery-or in your glass-along the Mid-Willamette Valley Food Trail.
Looking to learn more about life on the farm? Stop by Iron Water Ranch, home to a flock of adorable sheep; offerings at Iron Water Ranch include farm tours, fiber-based artwork for sale, fiber art demonstrations, and more. If gardening is more your scene, tour more than 250 raised beds growing nearly 700 varieties of specialty herbs at The Thyme Garden near Alsea.
And if you want to bring home some produce, fresh from the farm, several growers host seasonal stands and markets that usually open in spring and remain stocked with local delicacies through the fall. Highlights are almost too numerous to mention but include the likes of Gathering Together Farm-whose farm stand sells fruits, vegetables, eggs, pastries, breads, and more; Lilliputopia, which specializes in dry farming (which means its vegetables are grown without irrigation, pesticides, or chemical fertilizers); and Kiger Island Blues, where visitors can pick blueberries from more than 10,000 plants.

If you can't make it to a farm or are on your way home, the food trail hosts farmers markets in Corvallis and Albany, as well as markets in Lebanon and Sweet Home. Chances are good you'll buy your food from the person who grew it.
Naturally, it's possible to enjoy a variety of cuisines crafted with locally sourced ingredients at nearly a dozen eateries, bakeries, and cafés along the food trail. Stops include the award-winning Sybaris Bistro in Albany, The Dizzy Hen (serving fresh breakfast dishes in Philomath), and Mugs Coffee House (serving light breakfast and lunch bites, made with local ingredients, in Lebanon).
And be sure to check out the nearly 20 craft beverage producers throughout the mid-Willamette Valley-including Sky High Brewing in Corvallis (noted for locally made beers and the best rooftop views in town), 2 Towns Ciderhouse (crafting several creative ciders from locally sourced apples), flavorful vintages from Tyee Wine Cellars, or thoughtful spirits from Deluxe Brewing Co. and Sinister Distilling Co. in Albany.
We don't blame you for wanting to stretch your trip into an overnight or weekend-long outing. Lodging options along the trail include Donovan's Place-housed on a working Christmas tree farm at the western edge of Corvallis.