Mountainous landscapes and towering volcanoes are some of the Willamette Valley's most distinctive natural features. And the same forces that created those jagged peaks and sweeping landscapes are responsible for another of the Willamette Valley's most sought-after attractions: hot springs. The mineral-rich springs, fed by volcanic and geothermal activity below the Earth's surface, offer a relaxing respite from the modern world, often in the heart of old-growth forests or along bubbling rivers.
So whether you're looking for a natural hot spring or something a bit more developed, we've put together a guide to the hot springs of the Willamette Valley and West Cascades.
Just note: You'll want to keep a few rules and common courtesies in mind before throwing on your swimsuit (or stripping down altogether).
Alcohol: Please refrain from dinking alcohol while you soak; doing so can cause and exacerbate dehydration and dizziness.
Glass bottles: Given the rocky nature of most pools, you'll want to leave all glass bottles back at your vehicle.
Leave No Trace: Be sure to pack out whatever you bring in, so the next group of soakers can enjoy the same experience.
And with that, here are four hot springs throughout the Willamette Valley and Cascades Range-and what makes each so special.
Breitenbush Hot Springs
The eponymous pools are just some of the many attractions you'll enjoy at Breitenbush Hot Springs. The retreat center boasts several soaking tubs and hot springs; a steam sauna; yoga, meditation, and other wellness offerings; massage (for an added fee); overnight stays in the lodge; and more.
The hot spring pools and steam sauna are clothing optional, but clothing is required elsewhere on the property. And keep in mind that reservations are always required.
WHAT IT OFFERS: Breitenbush Hot Springs hosts the most developed hot springs in the Willamette Valley-yet it offers a holistic escape from the modern world with its self-care and wellness activities.
WHO'LL ENJOY IT: You'll appreciate the developed nature of Breitenbush if you're new to soaking, and you'll enjoy the amenities if you're looking for a wider wellness retreat.
FEES: $23-$39, $11.75-$19.50 for children 4-12, free for children under three; rates include access to the natural hot spring pools and steam sauna; well-being programs, such as yoga and meditation; the on-site lodge; a library for relaxing and reading; and more.
Belknap Hot Springs
The soaking opportunities at Belknap Hot Springs aren't exactly hot springs as you would imagine-they're spring-fed pools of hot mineral water-but the experience nevertheless offers a serene and relaxing getaway from the modern world.
Belknap Hot Springs sits on the McKenzie River and offers two pools, along with several acres of gardens, for rest and rejuvenation. One of the pools is reserved exclusively for overnight guests-who can stay in a lodge, cabin, or on-site tent and RV spots-while the other is available for daytime soaks. And if you need a break from the pool, Belknap Hot Springs offers several poolside lounge chairs, as well as gardens for a relaxing stroll. Note that bathing suits are required at all times, and pets are not permitted in or around the pools.
WHAT IT OFFERS: Belknap Hot Springs boasts a family-friendly retreat from the modern world, deep in the heart of the Cascade Range.
WHO'LL ENJOY IT: Families, retirees, and those uncomfortable with the lax dress code at other hot springs will enjoy the well-maintained respite along the McKenzie River.
FEES: $8 for up to one hour of soaking for day visitors between 9 a.m. and 5 p.m. (fees include shower and bathroom facilities); $110-$185 per night for lodge rooms; $135-$550 per night for cabins; $35-$40 per night for RV sites; $30 per night for tent sites. Overnight guests enjoy free and unlimited pool use.
Terwilliger (Cougar) Hot Springs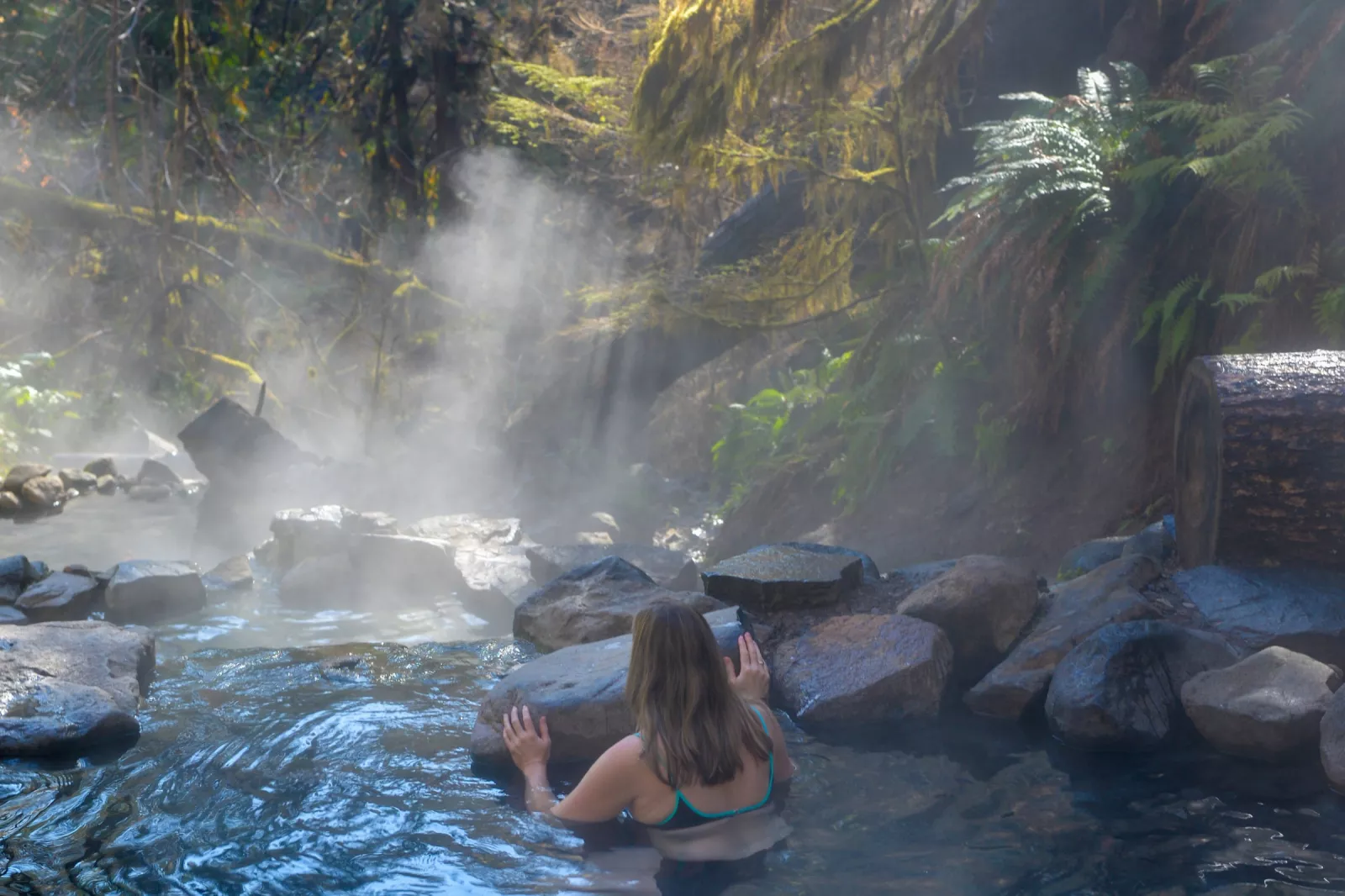 You'll feel like you're in another world long before you've dipped your toe in the waters at Terwilliger Hot Springs (also known as Cougar Hot Springs). The quarter-mile trail that leads to the clothing-optional hot springs is surrounded by old-growth forest, and the pools themselves are flanked by ferns and fir trees. Six soaking pools are laid out in a step ladder-like pattern; the pools are fed by a spring above the topmost pool, so you'll enjoy progressively cooler water as the pools descend-from 112F in the uppermost pool to 85F in the lowest pool.
Keep in mind that the pools are clothing optional-but that nudity is not allowed within eyesight of nearby Forest Road 19 (Aufderheide Drive). Soakers should also know that the hot springs are closed between 8 a.m. and noon every Thursday for cleaning, and that the area closes daily from sunset to sunrise. The pools are open year-round, but Forest Road 19 is not maintained in the winter, and the road may be covered in snow and ice.
Note that the Terwilliger Hot Springs reopened in June 2019, following a 2018 wildfire, and the trail leading to the hot springs sustained fire damage. Stay on the trail at all times, and watch for falling trees, rockslides, and other hazards along the trail.
WHAT IT OFFERS: The varying temperatures at Terwilliger Hot Springs offer a little something for everyone's heat tolerance, and the pools are large enough to accommodate groups.
WHO'LL ENJOY IT: Honestly, just about everybody-as long as you don't mind crowds.
FEES: $7 per person, per day; $66 annual pass also available
McCredie Day Use Area and Hot Springs
Bordering Salt Creek in the heart of the Cascades Range, McCredie Hot Springs sits in a lush forest not far from OR-58.
Visitors arrive at the hot springs next to Salt Creek after a half-mile, mostly flat hike. Some of the pools can be too hot for comfort-temperatures range from 98�F to 114�F-but the creek's chilly water feeds some of the pools, cooling them down and creating a more comfortable soaking experience. The pools range from 3 feet across to 35 feet across, and the deepest pool is 2 feet deep. Clothing is optional.

But keep in mind that accessing the more secluded southern bank requires crossing Salt Creek, which can run high and fast-especially after heavy rainfall, and in winter and spring. If the creek looks too swift for your liking, don't chance it.

Note that the hot springs are open dawn to dusk, year-round, for day-use only. Camping is not allowed at the hot springs.
WHAT IT OFFERS: The shallow pools at McCredie Hot Springs offer a quick getaway from Eugene-it's just an hours' drive-and a cozy soaking experience.
WHO'LL ENJOY IT: McCredie Hot Springs is among the most popular hot springs in the region, so you'll want to be comfortable sharing the pools with crowds (many of whom will take the -clothing optional- designation to heart).