Day One: Portland to Newberg or McMinnville
Welcome to Oregon! If it's been a long flight, you'll probably want to unwind with a glass of wine; fortunately, you're only about an hour away from the heart of Oregon Wine Country-home to more than 700 wineries pouring some of the world's most cherished vino.
From the airport, you'll head south along Interstate 205, west along Interstate 84, and south on Interstate 5-all before turning southwest onto Highway 99W. (Learn more about what there is to see and do along Highway 99W.) Before long, the Portland suburbs give way to rolling hillsides, never-ending vineyards, and scenic tasting rooms. It's time to draw straws for that designated driver, because you've arrived in the heart of Willamette Valley's celebrated wine country
What to do: More than 100 wineries are based in the area around McMinnville, Newberg, and Dundee; with so much to taste, it can be tough to know where to start-so get started with help from the Willamette Valley Wineries Association. And if you're looking to stretch your legs, stroll the tree-lined Third Street corridor in McMinnville; the buzzing downtown district hosts tasting rooms, boutique shops, and a variety of eateries to please every palate.
Where to eat and drink: Since 2013, Pura Vida Cocina has specialized in Latin American cuisine and drinks from the likes of Costa Rica, Cuba, Argentina, and Ecuador-all featuring fresh, local ingredients-in the heart of downtown McMinnville.
In Newberg, Rosmarino Osteria Italiana has earned acclaim for its upscale take on northern Italian fare-including pizza, gnocchi, and pasta; a curated selection of Italian wines rounds out the mouthwatering menu. For something a bit more on-the-go (but no less satisfying), stop by one of the two food carts from Dos Mundos; the family-run outfit dishes a mix of classic dishes (including tacos and burritos topped with the likes of chicken tinga and carne asada) and creative offerings (such as slow-roasted pork belly tacos and an Oaxacan mole).
Where to stay: Looking for comfort and class in equal measure? Book a night at The Allison Inn & Spa in Newberg; the resort is home to a variety of high-end amenities, including JORY Restaurant (offering a menu that rotates seasonally to spotlight fresh ingredients), live music, an award-winning wine list, and a luxurious spa (with an indoor swimming pool, whirlpool, 12 treatment rooms, and more).
And in the heart of downtown McMinnville sits the 36-room Atticus Hotel-home to a suite of luxurious amenities that range from fireplaces in every room to king-sized beds outfitted with locally made mattresses to temperature-controlled wine fridges. For a different kind of stay, head 10 minutes east of McMinnville, toward Dayton and check into an Airstream trailer at The Vintages Trailer Resort; choose among 35 fully restored trailers, each outfitted with a grill and cruiser bikes.
Day Two: McMinnville to Eugene
Sure, you could make a beeline for Eugene by doubling back to Interstate 5 and speeding south. But doing so bypasses a leisurely ride on Highway 99W and ignores the markets, farm stands, and farm-to-table restaurants that showcase the region's agricultural bounty. (After all, the Willamette Valley is known for growing several delicacies, including 80,000 acres of hazelnuts each year; taken together, that covers an area roughly the size of Philadelphia, Pennsylvania.)
While on Highway 99W, you'll pass through the no-stoplight hamlet of Amity, the city of Monmouth, and the bustling college town of Corvallis. Each could make an overnight stop on their own, and visitors should certainly make pit stops along the way for a peek at the Willamette Valley's vibrant agricultural, culinary, and craft beer scenes.
What to do: The Willamette Valley is an agricultural powerhouse, so get a close-up look at life on the farm with stops along the self-guided Yamhill Farm Loop; visitors can pick their own flowers and fruits, take behind-the-scenes tours, enjoy farm-to-table fare, pet farm animals, and more along the loop's 12 stops. And if you'd like to get into the Willamette Valley outdoors, consider a hike through forests and oak savannas at Our Lady of Guadalupe Trappist Abbey. Monks have lived in the abbey for more than 65 years and allow visitors to walk around the property-asking only that hikers check in at the main office and keep silent around the abbey's buildings to respect the monks who are engaging in silent meditation.
Where to eat and drink: Hungry for breakfast? The woman-owned Crescent Café sources fresh, seasonal, and local ingredients for its breakfast dishes from nearby farmers and producers. The restaurant's breads and pastries are made in-house daily, and a rotating menu means there's always something new to try.
Further south, take a 10-minute detour southwest of Amity to Priory of Our Lady of Consolation, where a group of Brigittine Monks produces small-batch fudge and several flavors of mouth-watering truffles. Once you've loaded up on chocolate, unwind with a pint at Grain Station Brew Works along the main drag in Monmouth; the craft brewery draws its inspiration from the Willamette Valley's agriculture and shares that through locally sourced food items and beers whose names pay tribute to life on the farm.
And in Corvallis, 4 Spirits Distillery produces award-winning spirits (including whiskeys, rums, gin, and vodkas) and donates a portion of its proceeds to local programs that help veterans and their families with reintegration support. And if you can snag a reservation, consider dinner at Gathering Together Farm (just outside Corvallis) for globally inspired cuisine with farm-fresh ingredients.
Where to stay: Eugene is chock full of great overnight options and many are in the heart of campus or active city districts. The Inn at the 5th is a Four Diamond Hotel featuring resort-style amenities like private balconies, cozy fireplaces, in-room spa services, and a private butler's pantry for room service. Nearby and newly established The Gordon Hotel is as artsy as they come, featuring it's own creative space, The Art Bar, where you can grab a light snack or create your own masterpiece. The Graduate is a great home base for game day and with a Top Golf Swing Suite you're sure to get active.
Optional Side Trip: Eugene to McKenzie Bridge and the West Cascades
As you head east from Eugene along Oregon Route 126, you quickly leave the big city behind for a trip into the Willamette National Forest. Here you'll follow the banks of the McKenzie River-noted for its remarkable clarity, forested banks, and wide range of outdoor opportunities. The fun out this way includes hiking, drift boating (in watercraft specially designed to tackle the McKenzie's rapids), mountain biking, camping, and fishing. Many of the lodgings, campgrounds, restaurants, and traveler services are centered around the communities of McKenzie Bridge and Blue River. (Just keep in mind that restaurants and attractions may keep limited hours between October and March-and that winter weather can impact operations. If visiting during the slow season, always call ahead to see whether your desired stops are open and operating at full capacity.)
Here's how to make the most of your time along the McKenzie River in the heart of the West Cascades.
What to do: The McKenzie region is known for epic mountain biking, especially along the McKenzie River National Recreation Trail, and whitewater paddling on the scenic McKenzie River. Horse Creek Lodge & Outfitters, sitting in the heart of the McKenzie area, has you covered in both realms, with mountain bike rentals and shuttles-not to mention full-day rafting trips on the McKenzie River. A Helfrich Outfitter, meanwhile, offers half-day and full-day rafting trips led by fully trained, certified, and helpful guides. Further north, the Clear Lake area hosts boat rentals, 34 campsites, cabins, and a five-mile hiking trail that passes through lava flows and circles the appropriately named lake.
Where to eat and drink: The McKenzie General Store serves thoughtful takes on popular pub classics, with a spacious backyard patio that routinely hosts live music all summer long. Choose among salads, burgers (crafted with Oregon-raised beef), fresh-caught salmon tacos, locally farmed pulled pork sandwiches, and other filling favorites-all using organic ingredients whenever possible. The general store also offers artisan snacks, craft beers, regional wines, and more to enjoy back at your room or campsite.
Where to stay: Horse Creek Lodge & Outfitters, just an hour east of Eugene in the heart of the West Cascades, offers a variety of accommodations-from a basic campground (which includes access to the bathroom building, potable water, and outdoor showers) to comfortable cabins. Nearby, McKenzie Riverside Cottages boasts lodge rooms and cottages with wide-open waterfront views, mere steps from the glassy McKenzie River.
Note: Wildfires scarred the McKenzie River region in 2020 and 2021. Please check to see whether your preferred outdoor recreation opportunities are open, and have a back-up plan in case they remain closed. And while we understand wanting to see the damage up-close, please do so without entering neighborhoods where families and small businesses continue to rebuild their homes and communities.
Day Three: Eugene to Salem
Our driving tour of the Willamette Valley takes us north on Interstate 5 to Salem, the capital of Oregon and the heart of the region. You can make the drive in an hour-but we'd recommend stopping to explore some of the Willamette Valley's historic communities along the way.
Brownsville, for instance, is where scenes from the 1986 classic film "Stand By Me" were shot; each July, the community holds an annual "Stand By Me" Day to celebrate the film's legacy. Further north, Albany showcases its past with four historic districts, several museums, and other educational attractions.
Salem makes a fine destination for the day-and welcomes visitors with Latino-owned eateries; creative craft beer and cider; expansive public lands; and more.
What to do: History buffs should head to Albany, which hosts several museums (including the Monteith House Museum, Albany Regional Museum, and Albany's Historic Carousel & Museum) and four historic districts for enjoying up-close looks at the region's past.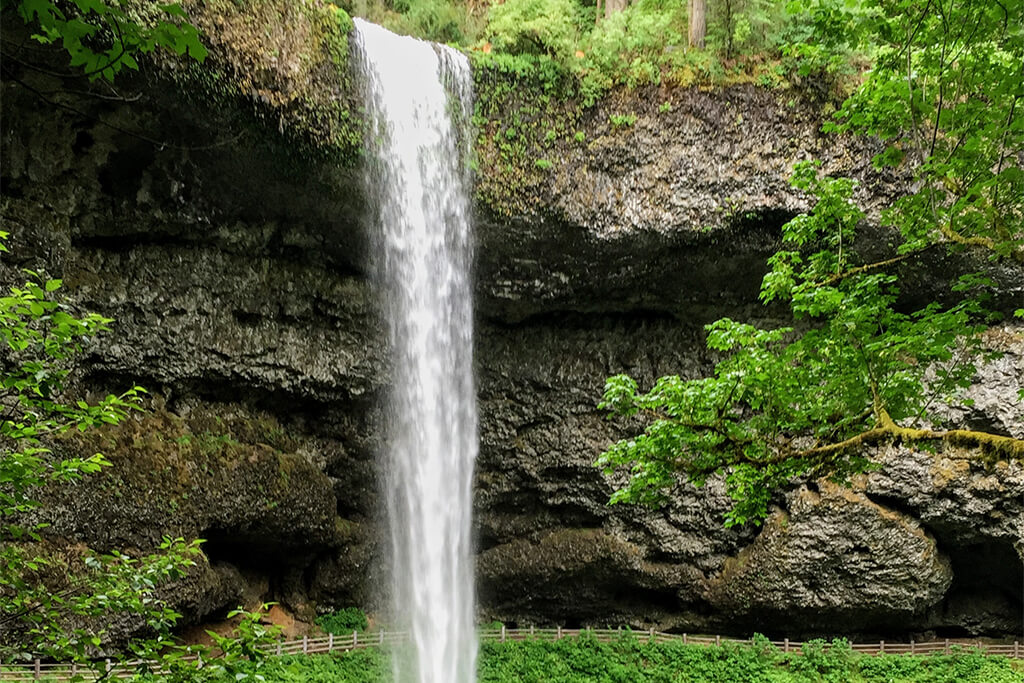 And if the outdoors are calling, check out Silver Falls State Park. The highlight of the park is the nine-mile Trail of Ten Falls, which passes (and heads behind) up to 10 waterfalls in the midst of a leafy canyon; the footpath is among the most popular in the state, though-so for a quieter experience, check out the park's other hiking trails, as well as mountain bike paths, picnic areas, and more. We've even put together a guide to Silver Falls State Park to help make the most of your time.
Where to eat and drink: Fuel up for the day with breakfast at Lion & Owl in downtown Eugene; the restaurant dishes a variety of items using fresh, seasonal produce-with fare that draws on the travels of the eatery's owners.
And if you can make dinner reservations, check out Sybaris Bistro-whose globally inspired menu of Pacific Northwest favorites rotates seasonally with whatever's fresh and in-season. If Korean fare sounds good, check out Happy Bibimbap House in Salem; the cozy restaurant specializes in Korean barbecue, soups, noodle dishes, and more.
Where to stay: The Grand Hotel in Salem offers more than a little luxury at the southern edge of downtown; its 193 rooms offer plenty of space to stretch out and relax, with free Wi-Fi, jetted tubs, and easy access to the city's bustling downtown core. And just 15 minutes southwest of town is The Independence Hotel, which sits along the banks of the Willamette River in the buzz-worthy community of Independence. (Did you know, for instance, that cycling around Independence is a popular pastime?)
Day Four: Salem to Portland
Your final day in the Willamette Valley takes you away from Interstate 5-and into the pastoral foothills of Mount Hood. Today, you'll follow Highway 99E and Oregon Route 214 through the likes of Woodburn (home to several Latino-owned businesses), Wilsonville (whose outskirts are covered with vibrant nurseries and flower farms), and Canby (the heart of the area's agricultural community). Be sure to save room in your luggage for souvenirs and delectable bites.
What to do: Enjoy a bit of the Willamette Valley's scenery with a stroll through Molalla River State Park-which sits at the confluence of three rivers, provides critical habitat for all manner of wildlife, hosts an off-leash dog park, and sits near the historic Canby Ferry. Elsewhere, you can meander through farms, wineries, and more along the self-guided South Clackamas Farm Loop, which comprises 20 stops in the foothills of Mount Hood.
Where to eat and drink: Stop in at Issac's in Salem for coffee or tea and tempting toasts and you'll be doing more than grabbing a bite. With every purchase you'll support their mission to train, mentor, and employ youth in an apprenticeship program. If you're looking for lunch as you head north, make time for Luis's Taqueria in the heart of Woodburn; the taqueria has been dishing some of the Willamette Valley's best-loved tacos, fajitas, enchiladas, tortas, ceviche, and more since 1993.
And if you can, try to snag a reservation at The Kitchen at Middeground Farms, which leans on locally sourced ingredients (many of them raised on the farm) and hosts a variety of unique events-including wine dinners, cooking classes, seasonal dinners, and more.