Just outside of Eugene lies the South Willamette Wine Trail, which winds through verdant farmland, bucolic valleys, forested hillsides, and-of course-plenty of orchards and vineyards.
Across the wonderland of low-traffic country roads, tasting rooms and wineries welcome visitors-from the leisurely café explorer to the well-traveled cyclists in search of a new view-to try world-class pinot noir, chardonnay, and other exciting vintages.
So as you plan your outing to the Eugene area, here's a look at where to discover the savory joys of the South Willamette Wine Trail.
Sip Stops Along the South Willamette Wine Trail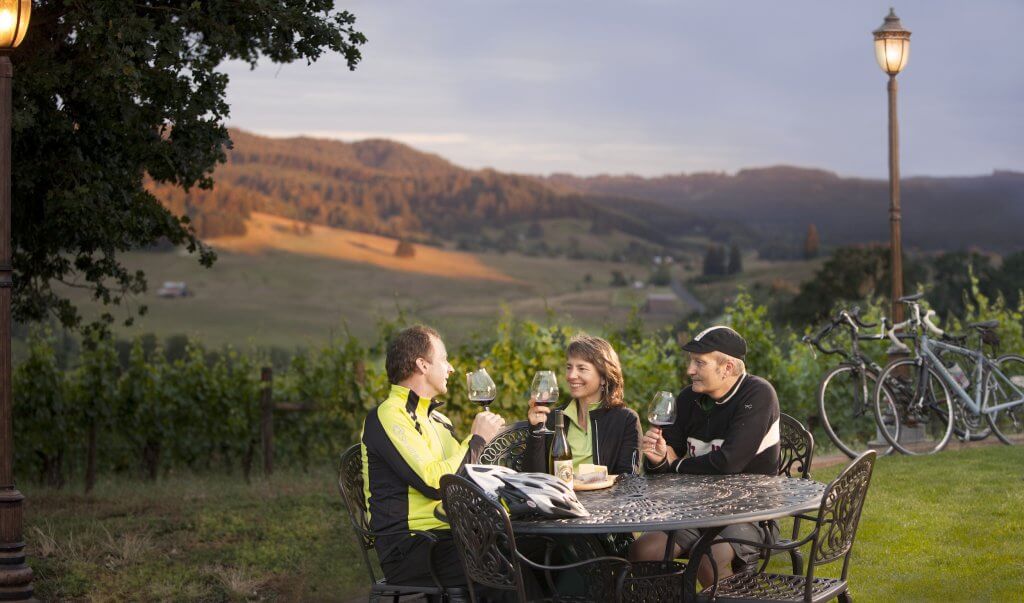 Highlights along the trail are numerous, but we've rounded up a few favorites to get you started.
Sarver Winery: Since 1984, Elhanan Vineyard at Sarver Winery has grown pinot noir and pinot gris grapes-which it uses in award-winning single varietals, signature blends, rosé, sparkling wines, and port-influenced dessert wines. Enjoy daily tastings accompanied by sweeping vineyard and valley views; on Friday evenings each summer, live entertainment and on-site food trucks add to the charm.
Sweet Cheeks Winery: Named for the curvaceous hillsides that grace its view, the charming Sweet Cheeks Winery is tucked into the steep countryside of the Briggs Hill Valley. Picnicking on the sprawling patio is encouraged, so bring a basket, buy a bottle, and enjoy some live music or the company of friends.

Silvan Ridge Winery: As one of the region's oldest wineries, Silvan Ridge Winery is beloved for its wide variety of uncommon varietals; sip a nice Syrah by the fireplace or a refreshing glass of award-winning Early Muscat Semi-Sparkling on the patio.
King Estate Winery: Internationally renowned for its Pinot gris, King Estate Winery offers sweeping views of the Lorane Valley, an incredible restaurant featuring a mostly estate-grown seasonal menu and, most important, generous pours. The sustainability-minded King Estate is also the largest Biodynamic-certified winery in North America; learn more about biodynamic wineries in the Willamette Valley.

Chateau Lorane Winery: Surrounded by fir trees and a private lake, the tasting room at Chateau Lorane Winery offers a cozy atmosphere for sampling a variety of rare and uncommon varietals-including Huxelrebe, Marechal Foch, and Baco Noir.

Saginaw Vineyard: Enjoy a picnic beneath a walnut tree while savoring a glass of wine in Saginaw Vineyard's bucolic setting. Try the winery's surprising blackberry wine and award-winning blueberry wine.
Ride the South Willamette Wine Trail
Quiet country roads bisect the valleys, forests, and vineyards just outside of Eugene-inviting cyclists of all skill levels to pair their day's ride with stops at popular wineries. We've rounded up a couple routes to inspire your next trip.
Wolf Creek Loop: Challenge yourself on the 53.5-mile Wolf Creek Loop cycling route, which starts just south of Eugene before ascending through the moss-laden forests of the Coast Range foothills. You're more likely to see another cyclist than a car along this scenic route, which caters to riders who prefer remote or wilderness environments. Wolf Creek twists and turns through the quiet hills, making long, gradual climbs and descents with some shorter, steep sections. Riders should be cautious of their speed on some turns.
Covered Bridges Scenic Bikeway: Heading out from Cottage Grove at the southern edge of the Willamette Valley, the 35.5-mile Covered Bridges Scenic Bikeway visits up to eight historic bridges-but can easily be shortened to accommodate cyclists of all abilities.
Savory Bites Along the South Willamette Wine Trail
Creswell Bakery: Enjoy fresh, farm-to-table fare at Creswell Bakery in the charming town of Creswell. Chef Heidi Tunnell uses locally-sourced ingredients in an ever-changing, always-creative lineup of house-made breads, pastries and lunches. Oregon wines and beers are available by the glass or bottle during lunch hours.