As the Pacific Northwest's only Latinx owned-and-operated brewery, Salem's Xicha Brewing (pronounced "chee-chah") is as much of a cultural landmark as a sudsy one in the busy Pacific Northwest craft beer scene.
Started in 2017 by Willamette University alums Ben Mendoza (business manager), Matt Dakopolos (head brewer), and local chef Ricardo Antunez, the West Salem locale quickly became a cornerstone of the city's Hispanic and culinary communities. Fast forward to the last 18 months of uncertainty, stay-at-home, and more-and it's fair to say Xicha has been nothing short of vital.
"We continued to have this importance of being a gathering place for people," Dakopolos says. "Having a place to be with those you care about, our place was really filling a social need."
Through the course of the pandemic, Xicha hasn't closed and has transitioned from to-go only to limited outdoors seating to now counter service-only, but that hasn't dampened the spirits of those involved.
"We're working on ways to make the experience quicker, and there's always more room to play with (ideas)," Antunez says.
Food Menu Spans Tacos, Tortas, Cubanos, and More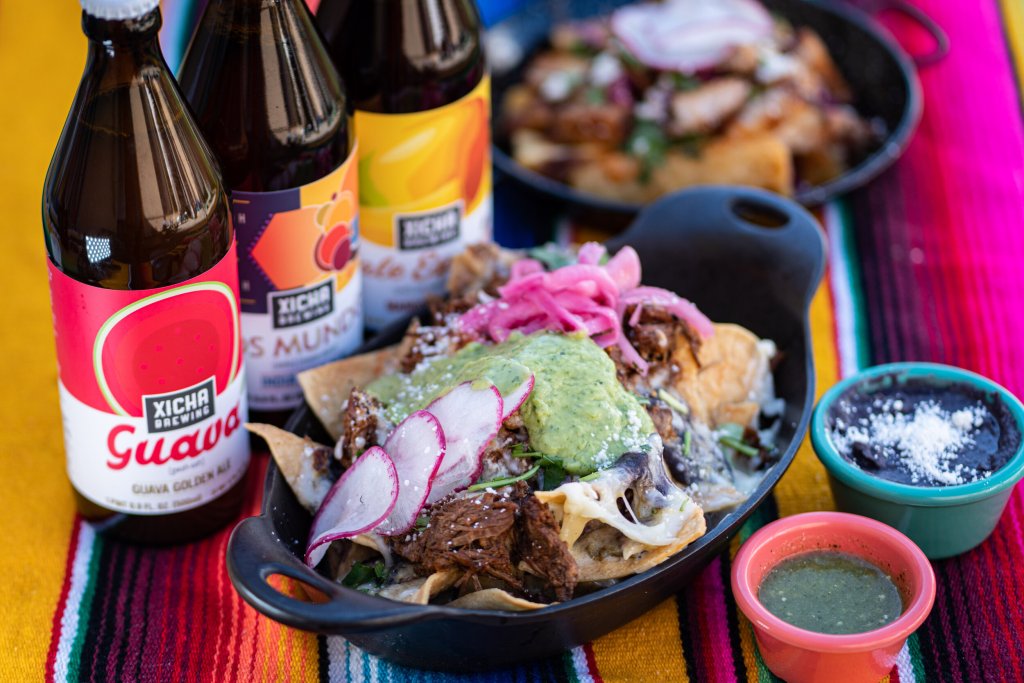 While familiar favorites like tacos, tortas, and flan appeal to the local Hispanic community, empanadas, croquetas and Cubano sandwiches act as a warm embrace and welcome to other Latin cultures. Phonetic spellings across the menu help newcomers sound out their orders.
Antunez has lived in Oregon for 15 years and is also known for Pura Vida Cocina-the Latin American restaurant he and his wife and front-of-house-manager, Maggie, opened in 2013 in McMinnville. Ricardo says that Xicha was a departure from McMinnville's more "sit-down" style restaurants and an opportunity to do something more casual.
"You can come here in your work clothes and just get a beer and some food," the northern California native says.
That laid back vibe is only part of the reason why Xicha has become an integral part of Salem's culinary scene. Dakopolos' creative takes on regional brews is perhaps the missing link that brings it all together.
Xicha Boasts Eclectic Variety of Quality Craft Beers
He had apprenticed at a couple other breweries in the Willamette Valley prior to starting Xicha, but concedes he came onboard largely as the next step from his own homebrewing outfit. Dakopolos notes that there's a growing excitement now in the Willamette Valley around craft beer, one that he feels is similar to the apex of Portland's scene in the mid-2000s, fueled by tourism and increased interest in what's happening in other parts of the state.
While Dakopolos says it's hard to know if Xicha would have been as successful if the brewery launched elsewhere, he thinks Salem afforded the team an opportunity to be a part of their community in a larger way.
"All of us (owners) were living in Salem at the time we started this, and it was central that the business reflects the community we live in," he says. "The brand has less value if we don't do that."
Xicha's range of beers is certainly reflective of both the Latin heritage and the regional scene, with popular takes on Mexican-style lagers, quintessential IPAs, stouts, and more. True to Oregon form, there are also a number of experimental and collaborative beers with flavors including guava and mango.
The team wants to get back to doing more collaborations soon, along with the seasonal dinners they were doing prior to the pandemic. Both Antunez and Dakopolos share a note of excitement in their voices about what's to come for Xicha. It's clear that a cultural and culinary haven, such as theirs, is more important than ever.
"The expectation for brewery food isn't usually high, but we have high expectations for ourselves," Antunez says. "We're trying to be one of the better restaurants in Salem."